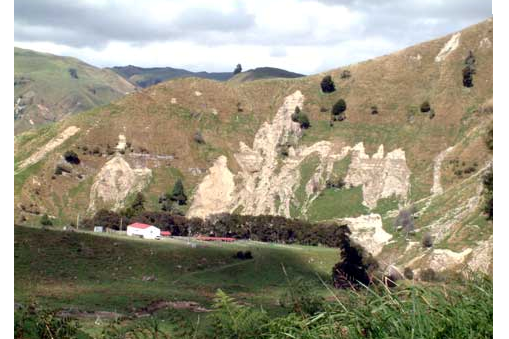 Erosion has a number of causes but the impact is the same – precious soil enters a waterway and is eventually washed out to sea. Manaaki Whenua – Landcare Research reports that New Zealand loses 192 million tonnes of soil each year – the equivalent of 400,000 dump trucks of soil every week!
Bare soil exposed by roadworks, subdivisions, cultivation, overgrazing, slips on steep land or stream bank trampling can be washed into streams and rivers during rain.
This reduces the clarity of waterways, impacting on the plants and animals. High sediment levels will also increase the amount of treatment required for drinking supply.
Roadworks and other activities that disturb the soil usually require an erosion and sediment control plan, including proposed revegetation techniques.
There are practices farmers and growers can follow. Steep areas can be retired from grazing and planted in a timber crop or left to regenerate into native bush. Crops should be planted in rows across a slope rather than down, with cultivation kept to a minimum. Crop stubble should be left on paddocks and a cover crop planted when land is left fallow.
Acknowledgement: Photo by Astrid VanMeeuwen-Dijkgraaf, DOC. Crown Copyright 2004.